Little Peeps Playgroup, a Flying Start setting, experience with Littlemagictrain
Care Inspectorate Wales Feedback
In the report from the Care Inspectorate Wales on the 13th of July 2023  comment in the Well-Being section:
"Children squealed with laughter as they travelled to the 'beach' on the 'magic train', engaging in movement and singing activities as they met with sea creatures on their journey".
We are beyond proud of all the work Little Peeps have done with their very own Littlemagictrain.  Little Peeps team you are SUPERSTARS!
The Amazing Little Peeps Team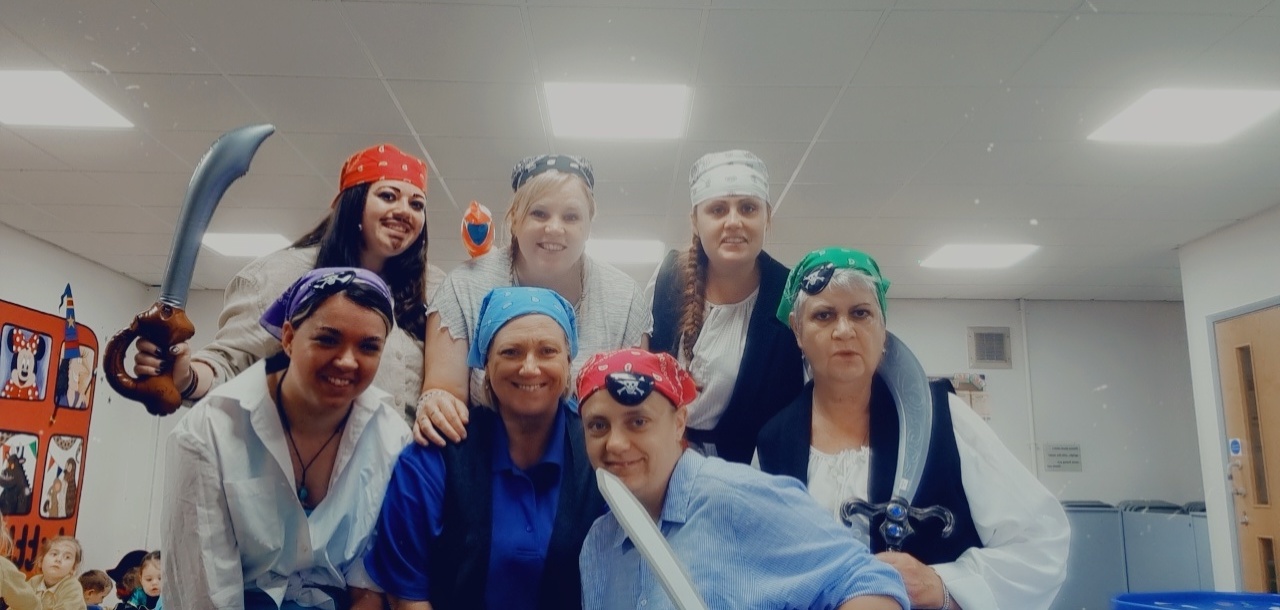 Little Peeps Playgroup first opened its doors in 1994, catering for children ages 2 ½. Now we have lowered the age to 2-4 years, to accommodate the need for childcare in the area.
Fast forward to 2023 and we are now part of Flying Start, which offers FREE childcare to children aged 2-3, becoming a Flying Start setting was a fantastic opportunity for us at Little Peeps, allowing children to attend our setting who may not have been able to before if the free childcare was not available. We at Little Peeps needed to make a lot of changes to the setting to support the changes from playgroup to a flying start, new equipment, toys, and new approaches.
One of the new approaches we have taken on board in peeps is the curiosity approach, this approach is where children are encouraged to use everyday household items, toilet roll tubes, and any other object without a "purpose", this encourages the children to use their own imagination, make their own choices and figure things out for themselves which leads to confidence, critical thinking, and problem-solving, this link in very well with little magic train.
Over the last 2 years we have incorporated Littlemagictrain into our routine, our Magic Train "Hank" has taken us on many adventures around the world! Our children absolutely love Hank and all the magical places he takes us!
Our children enjoy exploring different activities, messy play, crafts, and free play which incorporates the adventure we have been on.
We have also made our own journeys, which match the themes we are using within the setting, from pirate adventures to St Dwynwens Day (Welsh Valentines).
We create activities to suit our children's age, stage, and abilities, allowing all our children to participate and enjoy the journey at all stages.

Chris is the manager and owner of Little Peeps; she has worked here for 25 years!
Chris has 4 children and 9 grandchildren.
Nicole (Coley), deputy manager, has worked at Little Peeps for 10 years. Nicole has 2 children.
Sian (Siany) deputy manager has worked at Little Peeps for 7 years. Sian has 1 child.
Lindz playgroup assistant, has worked at Little Peeps for 7 years. Lindz has 2 children.
Rebekah (Bek), playgroup assistant has worked at Little Peeps for 9 years. Bek has 2 children.
Phillipa, Admin, has worked at Little Peeps for 2 years. Phillipa has 1 child and 1 grandchild.
Amber is our newest member of staff, being at Little Peeps for almost 1 year.